Homepage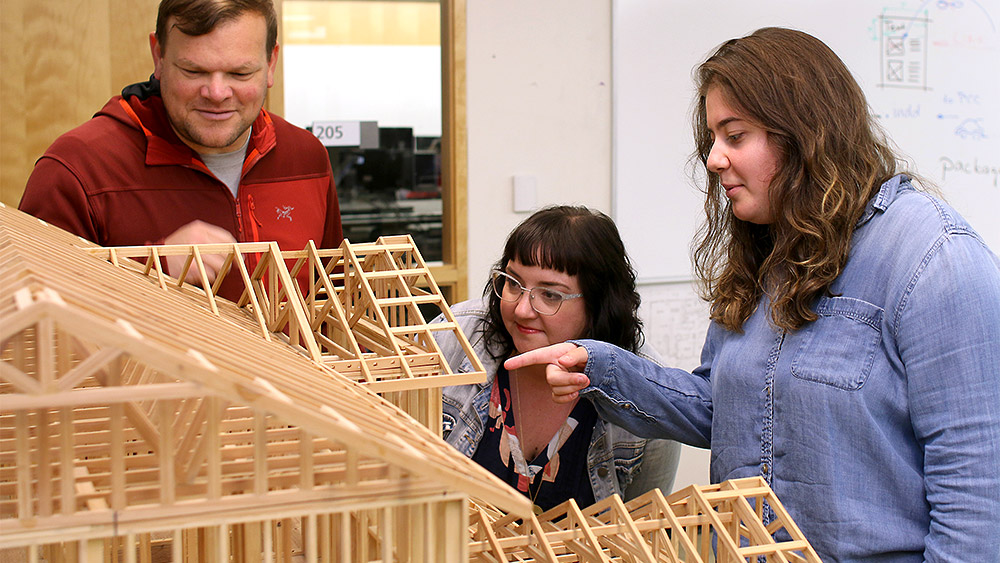 Salary
According to the Oregon Employment Department, architectural drafters earn between $19.71 and $39.33 per hour in Portland. The average annual salary is $63,812.
An architectural designer/drafter uses skills and knowledge in Computer Aided Drafting (CAD), Design, and Building Systems to work with Designers, Architects, Home Builders, and Engineers. They work to create designs, drawings, and 3-D models of buildings. The program focuses on residential and small commercial buildings. Skills developed in our program include:
Computer-aided drawing and 3-D modeling
Residential design and remodeling
Building systems and codes
Structural design and calculations
Construction drawings
Free-hand drawing and rendering
The Oregon Employment Department projects job growth of nearly 14% for architectural design drafters through 2027.
Why choose Architectural Design and Drafting at Portland Community College?
Student testimonial
"This program was great. There are many different aspects to drawing and building a structure. The courses at PCC are designed to cover these. I found my teachers to be excellent in communicating these skills and techniques. I enjoyed all the classes and would encourage others who are thinking of entering this career to take these classes." Marie Sherman
Architectural Design and Drafting graduate, Perkowitz and Ruth Architects
PCC offers the only two-year Associates of Applied Science degree in Oregon. You will study with experienced faculty who have industry experience. Portland's active architectural design and construction industries provide an excellent asset for our students. Our flexible, broad-based curriculum prepares you for quick entry into a growing field.
Our classrooms provide each student with access to the same quality computers, printers, and scanners used by professionals. The curriculum is designed to train you to correctly use equipment and software towards the development of architectural drawings and 3D modeling.
Degrees and certificates
*Due to the requirements of the Architectural Design and Drafting program course offerings, some students experience a longer duration of study. Be sure to review the new student information packet and first-term course planner for details about course planning.
What will you learn?
Class information
Our courses cover the fundamentals required for a successful career working as a Designer/Drafter/3-D Modeler. From CAD drawing to the knowledge of building systems to design, the Architectural Design and Drafting program teaches you a myriad of industry skills necessary to work in this exciting field.
What will you do?
Architectural designers' and drafters' work consists of a variety of activities:
Documenting conditions at a site where a new building, or remodel will take place
Working with clients to determine their requirements for their building
Research building codes
Creating CAD drawing which represents design concepts, development of the design, and construction documents for permits and final construction
Entry-level designers are expected to use software applications to effectively develop drawings. Maintaining employment requires additional skill sets, such as communication skills (verbal and written), along with design and technical skills. Presentation, time management, and organization are highly regarded assets of this field.
Who will hire me?
Architectural designers and drafters are hired into a range of firms and businesses, including:
Residential designers
Homebuilders
Architects
Interior designers
Engineers
Construction firms
Architectural product manufacturers
Facilities management departments of corporations
Land and geospatial surveyors
Governmental drafting departments
Graduates of the PCC Architectural Design and Drafting program have found a very favorable job market to use their skills. Some firms and businesses that have hired our graduates over the last few years include:
ArciForm
Ankrom Moisan Architects
Corbin Engineers
DCI Engineers
D.R. Horton homebuilders
Framework Engineering
GBD Architects
Grummel Engineering
Interface Engineers
i-TEN Associates
Neil Kelly
OHSU Facilities Planning
Power Engineering
SSOE Group
Considering transferring for a university degree in architecture?
The PCC Architectural Design and Drafting program is not a transfer program. If you are considering transferring college or university for a degree in architecture, please work with a general advisor for information about a transfer degree.
Next steps
Applying to PCC is free and only takes a few minutes.Apply now

Not quite ready to apply?
We can help you get the info you need.