Healthy Older Adult Fitness, Career Pathway certificate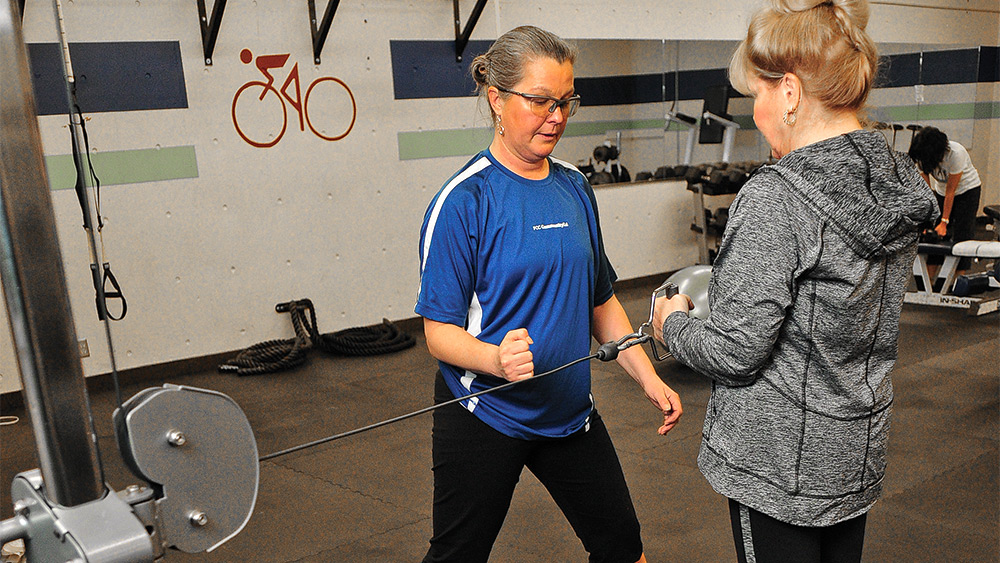 Do you want to promote the health and wellness of older adults?
Are you experienced in a field working with older adults or as a fitness professional, and want to enhance your skills and abilities?
Do you want to be part of the movement preventing injury and illness in the aging population?
As an older adult fitness leader, you will be part of the preventive health care team working in health and fitness clubs, wellness centers, public and private recreation facilities, hospitals, and/or corporate fitness centers. The EXS Healthy Older Adult Fitness Certificate may be obtained as a stand-alone certificate or in addition to the AAS degree.
In this Career Pathways certificate, you will be prepared to meet qualifications for employment as an entry-level activity or fitness leader working with healthy older adult populations and apply knowledge and skills gained in the Exercise Science and Gerontology programs when working with and for elders in the community. The Exercise Science program partners with the Gerontology program. In addition to this certificate, co-certificates and/or co-degrees between Exercise Science and Gerontology can be earned. Minimum of 30 credits. Students must meet all certificate requirements. All courses are contained in the Exercise Science AAS Degree.
Individualized coaching
As a Career Pathway student, you can get one-on-one support to help you access resources, services, and employment. You may also be eligible for financial support to help you with the costs of college.
Get connected
Award information
Degrees and certificates by number of terms to complete
Award
Length
Financial aid eligible
Currently accepting students?
Career Pathway Certificate: Healthy Older Adult Fitness
Less than 1 year
Limited entry, see how
to get into this program
Learn more about Exercise Science and all 5 awards available »
Courses
Course listing for the 2023-2024 catalog year.
Course List
Code
Title
Credits

FT 100

Emergency Response for Fitness Professionals
1

FT 110

Injury Prevention & Management
2

FT 131

Structure & Function of the Human Body
4

FT 180

Exercise Science Internship Preparation
1

FT 202

Fitness and Aging
3

FT 280

Exercise Science Internship I
4
or 

FT 280C

Exercise Science Professional Project II

HE 295


& 

PE 295

Health and Fitness for Life


and Health and Fitness for Life Lab

3

PE 287

Professional Activities: Aquatics
2

HUS 102

Mental Health First Aid: Adult
1
or 

HUS 106

Mental Health First Aid: Youth
or 

HUS 107

Mental Health First Aid: Older Adult

PE 181A

Weight Training I
1
or 

PE 181B

Weight Training II
or 

PE 181C

Weight Training III

PE 281

Professional Activities: Resistance Training
2

PE 282B

Professional Activities: Older Adult Fitness
2

SOC 223

Sociology of the Life Course
4
or 

SOC 231

Sociology of Healthy Aging
Total Credits
30
Jobs
The average full-time wage is $30,000 to $50,000 per year, with typical entry-level rates at $15 to $25 per hour.
Finish your degree
The Healthy Older Adult Fitness Career Pathway Certificate leads to additional certificates and degrees. Continue your education to give yourself more job opportunities and career advancement.
Is it for me?
Who: High school graduates (and high school equivalency). Completion of IRW 115 or (WR 115 and RD 115) and MTH 20 or equivalent placement test scores. If you do not meet all the placement recommendations, contact us for other options.
Where: PCC Sylvania Campus
When: Three terms
Program cost
Use the cost calculator to see the estimated costs. For more detailed cost sheets contact 971-722-4210.
Not quite ready to apply?
We can help you get the information you need.