Construction Management, associate degree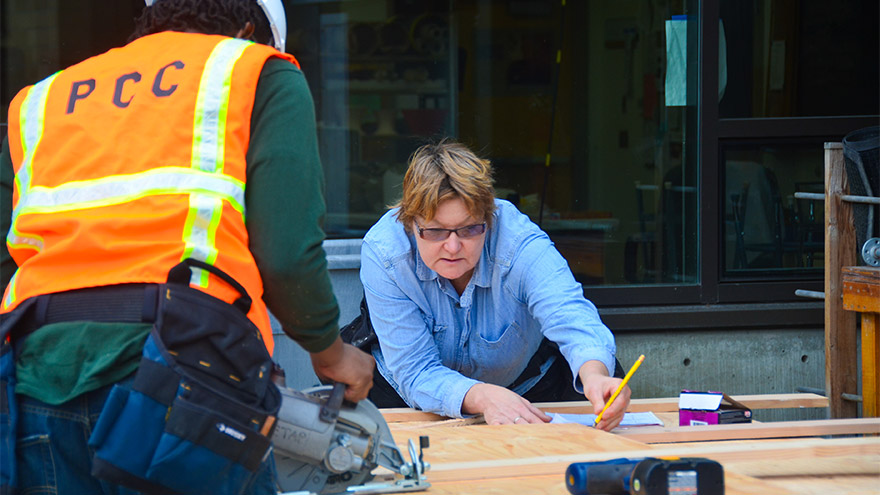 The curriculum is designed to provide detailed instruction in commercial construction practices and is taught from the perspective of the general contractor. You will learn:
Bid preparation
Construction project management
Estimating construction costs
Job costing techniques
Scheduling construction projects
Structural and mechanical systems used in today's high-performance buildings
Sustainable construction practices
Third-party verification methods such as LEED and Earth Advantage
Award information
Degrees and certificates by number of terms to complete

| Award | Length | Financial aid eligible | Currently accepting students? |
| --- | --- | --- | --- |
| Associate Degree: Construction Management | 2 years | | |
Learn more about Building Construction and all 4 awards available »
What will you do?
Graduates move on to work as:
Estimators
General contractors
Owner's representatives
Project managers
Superintendents
Courses
Course listing for the 2023-2024 catalog year.
Plan of Study Grid
First Term
Credits

BCT 100

Overview to the Construction Industry
3

BCT 102

Residential Printreading 1
3

BCT 103

Residential Materials and Methods 1
3

BCT 104

Construction Math §1
3

BCT 170

Excel for Contractors
2
Second Term

ARCH 110

Introduction to Architectural Drawing
2

BCT 119

Bluebeam for Construction
1

BCT 134

Construction Scheduling 1
3

BCT 135



Residential Building Codes


or Residential Building Codes

2

BCT 202C

Business Principles for Construction
3
3
Third Term
BCT 117
Graphic Communication for Contractors
1
BCT 133
Commercial Materials and Methods
3
BCT 136


or ARCH 133

Commercial Building Codes


or Commercial Building Codes

2
BCT 221
Construction Law for the Contractor
3
COMM 111


or COMM 215

Public Speaking (COMM111=COMM111Z) *,Z


or Communicating in Teams and Small Groups

4
BCT CAD Electives
3
Fourth Term
BCT 139
Procore
1
BCT 150
Mechanical, Electrical and Plumbing
4
BCT 204C
Construction Estimating - Commercial
3
BCT 213


or ARCH 162

Commercial Printreading


or Commercial Print Reading

3
CG 209
Job Finding Skills
1
WR 227


or WR 122

Technical Writing (WR227=WR227Z) Z


or Composition II (WR122=WR122Z)

4
Fifth Term
BCT 206
Sustainable Construction Practices
3
BCT 214
Advanced Construction Estimating
3
BCT 222


or ARCH 122

Engineering for Constructors


or Structural Systems 2

3
General Education: 2 courses
Sixth Term
BCT 130
Construction Safety
3
BCT 207


or BA 111

Construction Accounting


or Introduction to Accounting

3
BCT 208
Introduction to Lean for Constructors
1
BCT 225
Construction Project Management
3
General Education: 1 Course
Seventh Term
BCT 280A
Cooperative Education: Building Construction 2
3
 
Total Credits
91
*

Could be used as General Education

§

 Course cannot be substituted for another course.

1

Class may be challenged by petitioning for course by examination.

2

Credits for this class may vary from one to six depending on the nature and duration of the cooperative experience. This class may be taken more than one time until the required number of credits is fulfilled. See advisor for details.

Z

This course is part of Oregon Common Course Numbering. The following courses are equivalent:

COMM 111 and COMM 111Z

WR 122 and WR 122HZ

WR 227 and WR 227Z

 
Night classes
The Construction Management program offers primarily evening classes, one night per week per class. Most CM classes are held between 6-9pm Monday thru Thursday, and nearly all CM classes are offered exclusively at Rock Creek. Exceptions include General Education, Writing, and Computer Applications classes that are offered on multiple campuses and online. Given our size, many CM courses are offered only once per year, so planning your courses with an advisor is important for students to complete on time. A CM course planner is available from a BCT faculty member. Students typically graduate in 2-2.5 years.
Schedule
While the majority of new students enter the program in the fall term, it is still possible to complete the degree in two years if you begin in winter or spring, if you attend in the summer and carry a heavier class load. We will work with you to develop an academic plan that suits your specific requirements. You may need to spread the coursework out over time, taking one or two classes each term. It is not required that you attend full-time. Some students earn a degree slowly, balancing work, family, and coursework. And down the road, you can continue at night or online with OIT or SOU and earn a Bachelor's degree in just two more years.
Next steps
Applying to PCC is free and only takes a few minutes.Apply now

Not quite ready to apply?
We can help you get the information you need.