Homepage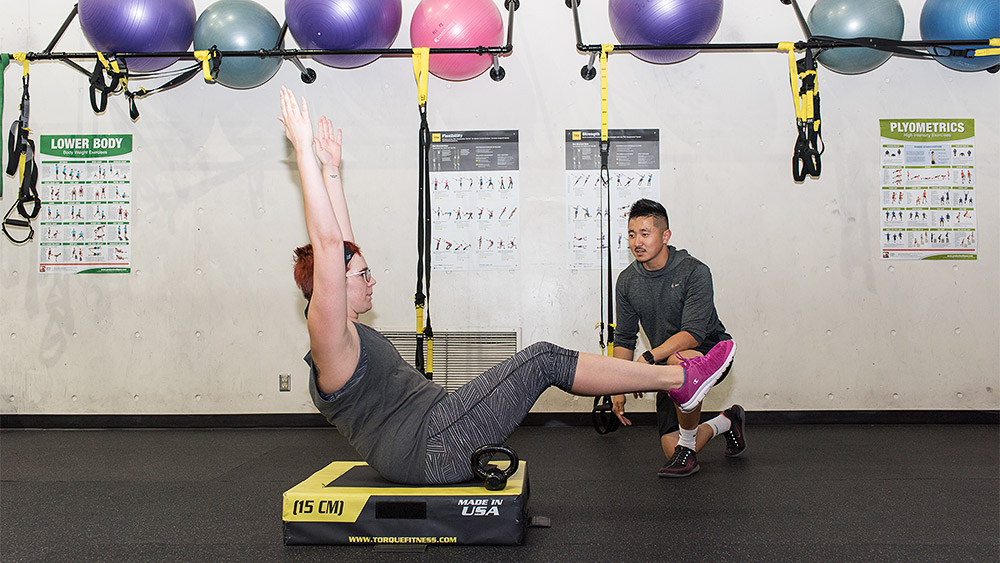 With increasing obesity, disease, and medical costs associated with inactivity, the importance of highly qualified fitness professionals has never been greater. Better health and fitness translates to fewer sick days, lower insurance rates, and an overall improvement in personal and professional lives.
All of this means that the need for qualified fitness professionals will continue to rise. The Oregon Employment Department forecasts Portland area employment of fitness trainers will grow 14.6% through 2027.
Why choose Exercise Science at PCC?
Salary
The Oregon Employment Department reports Portland area fitness trainers earn from $15.65 to $38.82 per hour. The average annual salary is $51,875.
The Portland Community College Exercise Science program, located primarily at the Sylvania Campus, provides high-quality education and practical experiences to prepare you to successfully join the workforce as a fitness professional.
You will gain hands-on experience in practical lab facilities with equipment that mimics what professionals may use in the field, including:
Adaptive exercise equipment
Various cardio and weight machines
Fitness testing equipment for cardio, muscle, flexibility, and body composition
Free weights and functional training equipment
Submaximal and maximal metabolic cart VO2 testing
Graded exercise testing with ECG monitoring
Anatomy models and skeletons
Balance, gait, and posture assessments
CPR, first aid, and AED equipment
See the program overview page for more information on program specifics, certifications recommended, and program costs.
Degrees and certificates
What will you learn?
Class information
Our Exercise Science program provides coursework, education, and experience so you can successfully join the workforce as a fitness professional. You will learn:
Anatomy and physiology basics
Applied kinesiology
Exercise physiology
Fitness assessment and programming
Fitness promotion
Interpersonal skills
Sports nutrition
and many other fitness and wellness-related topics
You can earn all three certifications within two years if attending PCC as a full-time student. The Exercise Science program partners with the Gerontology program. In addition to the Healthy Older Adult Fitness certificate, co-certificates and co-degrees between Exercise Science and Gerontology can be earned.
What will you do?
The fitness professional performs a variety of instructional and administrative responsibilities, including:
Business operations
Exercise programs
Fitness testing
Instruction
Member retention
Sales
Educated and certified fitness professionals are hired in:
Community centers
Corporate fitness centers
Diet centers
Health clubs
Hospital or allied-health clinics
Recreation facilities
Vacation resorts
Professionals working in this field are known by a variety of titles within the industry, including but not limited to:
Activity director
Exercise specialist
Fitness instructor
Group exercise leader
Member services specialist
Personal trainer
Strength and conditioning coach
Wellness specialist
Transfer option
Students who complete the PCC AAS Exercise Science degree can transfer to Portland State University as a junior.
Not quite ready to apply?
We can help you get the info you need.