Homepage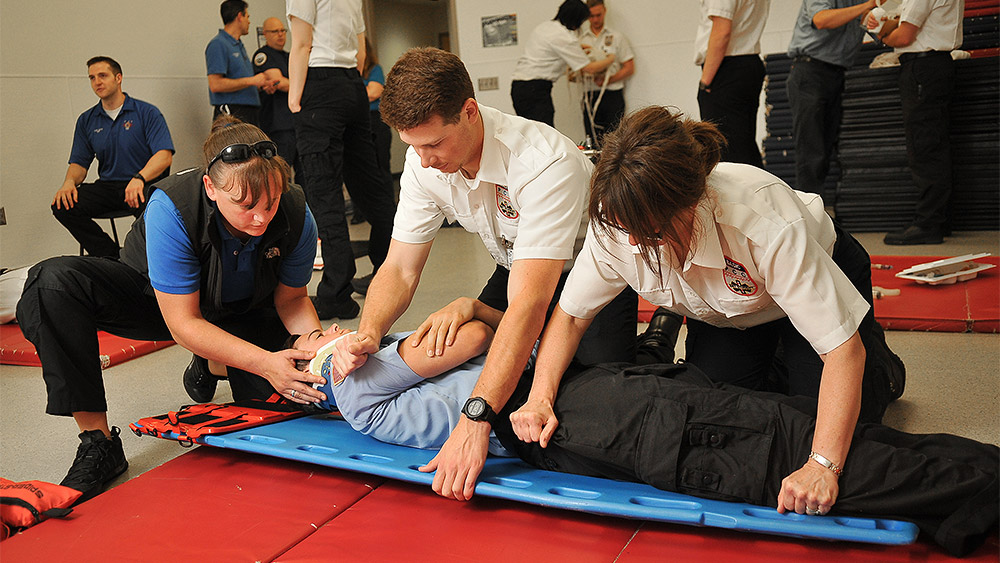 Emergency medical service providers (EMTs and Paramedics) provide efficient and immediate care to the critically ill and injured, and transport patients to appropriate medical facilities.
The Oregon Employment Department forecasts Portland area employment of emergency medical technicians will grow 8.1% through 2027.
Why choose Emergency Medical Services (EMS) at PCC?
Salary
The Oregon Employment Department reports emergency medical technicians in the Portland area earn from $15.04 to $23.34 per hour. The average annual wage is $42,318.
Portland Community College's Emergency Medical Services program is the largest in the state of Oregon. Our facility is also home to the Fire Protection Technology program. This multidisciplinary environment enhances the integration of all emergency services.
View our program costs.
Degrees and certificates
The program is not accepting students for the Advanced Emergency Medical Technician Certificate or the Emergency Medical Services Career Pathway Certificate. Please contact the department with any questions. 
What will you learn?
Class information
PCC's Emergency Medical Services (EMS) program is committed to training and educating emergency medical technicians to the highest standards. The PCC EMS program has kept pace as technological advances and demands have evolved. PCC provides you with a solid foundation in emergency medicine necessary to enter this rewarding and exhilarating career.
What will you do?
EMTs use communication skills in person, via radio, and in writing. A solid foundation in the basic elements of emergency pre-hospital care is developed and is required to make sound judgments in critical circumstances. Duties include, but are not limited to:
Airway and ventilation management
Automated external defibrillation
Bandaging and splinting
Bleeding control
Cardiac arrest
Childbirth
CPR
Extrication
Lifting and moving patients
Medical assessment and management
Medication administration
Patient assessment (pediatric and adult)
Trauma assessment and management
EMTs are employed by numerous agencies, both public and private, emergency and non-emergency. These may include:
Ambulance companies
Care centers
Educational institutions
Fire departments
Hospitals
Law enforcement
Recreational facilities
Search and rescue squads
Transfer services and others
Positions range from volunteer services to part- and full-time employment.
Not quite ready to apply?
We can help you get the info you need.