Homepage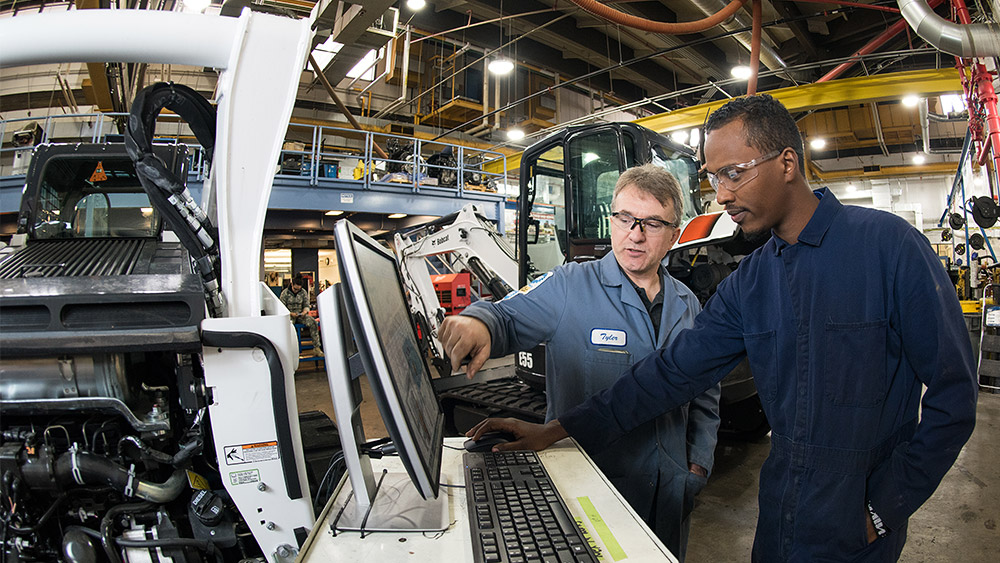 Diesel engines are used in trucks, tractors, construction machines, power generation, boats, and trains. The transportation industry depends on diesel power to move the world's goods.
The widespread use of diesel equipment allows diesel service technicians to work in a shop or field service. As a diesel technician, you could work on a construction job, in the woods with a logging operation or at sea on a tug or fishing boat.
The Oregon Employment Department forecasts diesel mechanic employment in the Portland area will grow 14.1% through 2027.
Why study Diesel Service Technology at PCC?
Salary
The Oregon Employment Department reports Portland-area diesel mechanics earn from $19.08 to $37.72 per hour. The average annual salary is $57,269.
Training in Portland Community College's Diesel Service Technology gives you a broad background in different disciplines of the diesel service industry. In addition, the program offers several industry-upgrade courses.
Accreditation
All of our instructors are ASE certified Master Truck Technicians.
Facilities
PCC's diesel shop is a 17,000-square-foot facility with state-of-the-art equipment and tooling. The shop is surrounded by four classrooms to easily accommodate the lecture/lab format of instruction. This format allows you to learn hands-on how to diagnose and repair today's complex systems. We have a staffed tool room with all of the latest specialty equipment and computers loaded with diagnostic software to service late-model vehicles.
Diesel industry affiliations
PCC's program enjoys a variety of industry affiliations, corporate partnerships, and vast resources. Corporate manufacturers as well as local dealers and repair facilities support us with new products, training, service literature, engines, heavy equipment, technical support, and computer software.
Degrees and certificates
What will you learn?
Class information
PCC's Diesel Service Technology program gives you first-hand experience working on the latest industry products with the latest industry tooling and software. Our on-site equipment includes a variety of:
Braking components
Diesel-powered construction equipment
Drivetrain components
Engines
Late-model trucks
Suspension components
Transmissions
We help you develop skills in:
Communication
Computers
Diesel service vocabulary
Following directions
Job search
Organization
Repair procedures
Tool use (hand, power, and precision)
Trouble-shooting diesel systems
Understanding service manuals
What will you do?
Today's diesel technicians are highly skilled, analytical thinkers who diagnose and repair the most advanced trucks and heavy equipment that have ever been built. On-board computers operate engines, transmissions, brakes, hydraulic systems, and even air conditioning systems. Technicians now communicate with the on-board computers using PCs loaded with special, interactive software.
PCC's diesel service technology program prepares you for entry-level positions in the industry.
Who will hire me?
Graduates have found work locally and throughout the United States. Most students start working soon after starting the program and earn a great wage while going to school.
PCC Diesel Service Technology program graduates are presently employed as:
Entry-level technicians
Factory representatives
Journeyman technicians
Shop foreman
Superintendents
Trainers
Warranty representatives
Bachelor degree opportunity
The PCC Diesel Service Technology program has an agreement with Montana State University-Northern to make it easy for you to transfer into their Bachelor of Science Degree in Diesel Technology program. Complete our AAS degree in Diesel Service Technology and MSUN can accept you as a junior. Students graduating from MSUN are highly sought after by many large diesel related companies.
Not quite ready to apply?
We can help you get the info you need.