Closing Reception on June 10
PCC Art Galleries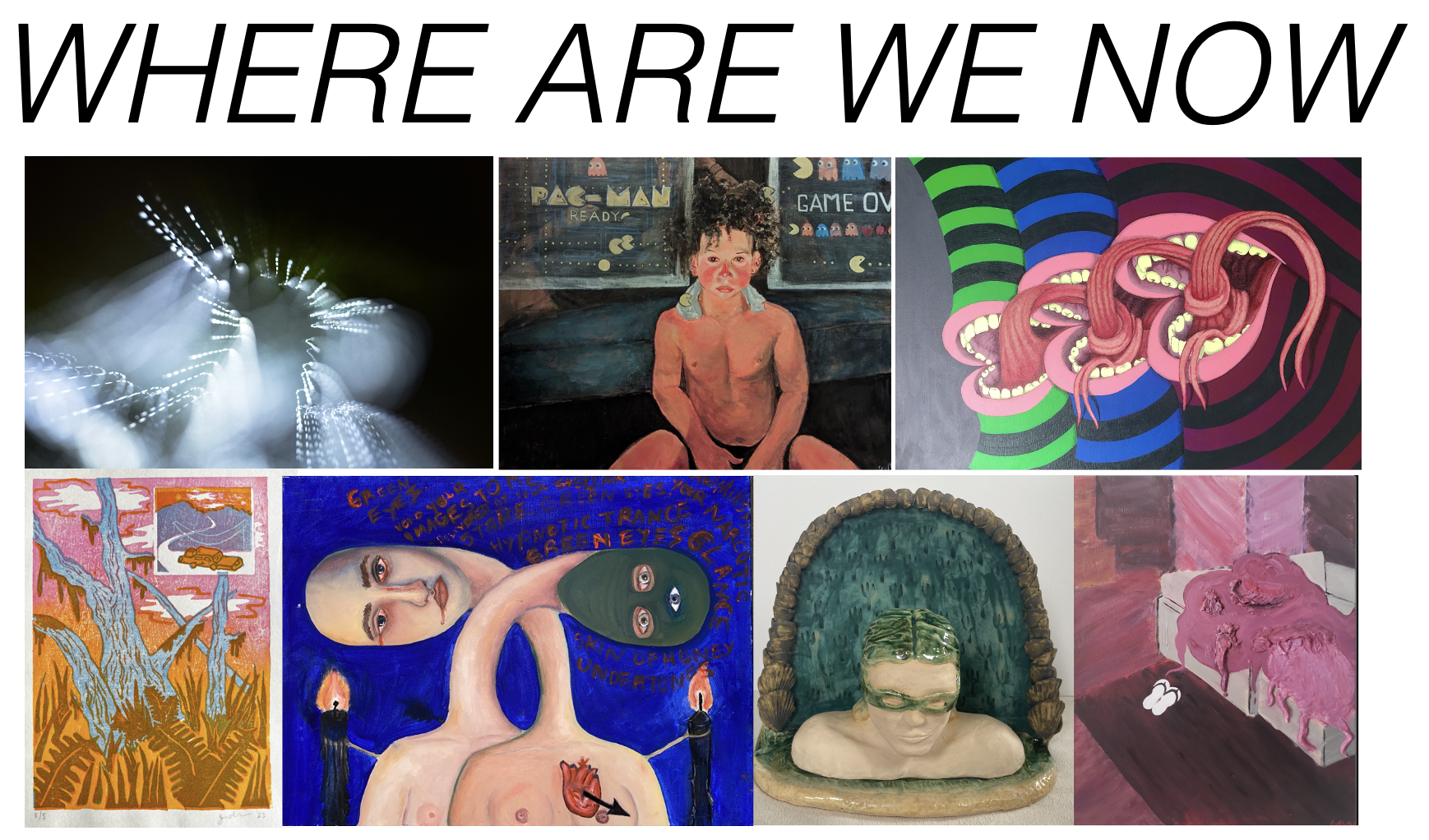 (Clockwise from top to bottom, left to right: Chris Hiebert, "Realm", 2022, DSLR camera, Photoshop, 16 x 20″; Constance Colter, "Sunburn Fever", 2022, oil on canvas, 24 x 30"; Nikki Edwards, "Odontophobia", 2022, acrylic on canvas, 24 x 36"; Grace Dunbar, "Untitled", 2023, Mokuhanga woodblock print, 8.5 x 6.5"; Kenya Sanabria, "The Entanglement", 2022, oil on canvas, 18 x 24″; Jasmine Pfafman, "Poseidon", 2023, ceramic, 9 x 11 x 6"; Sidney Novak, "Dementions", 2023, acrylic paint and sculpting clay on canvas, 20 x 16".)

WHERE ARE WE NOW | PCC Art Student Exhibition 22/23
Exhibition dates: May 18 – June 15, 2023.
Gallery Hours: Monday – Friday, 8 a.m. to 4 p.m., Saturdays by appointment
Evening Hours: Thursday, May 18 and Wednesday, May 31 until 7:00 p.m.
Awards Reception and Conversation with Juror Yaelle Amir: Saturday, June 10, 12:30 – 1:30 p.m.
WHERE ARE WE NOW, Portland Community College's 3rd Annual college-wide art student exhibition represents the community's first opportunity to see new student art made across the PCC District in person, in one of Portland Community College's four art galleries. 
The exhibition provides an opportunity for the college and our communities to reflect on what we have experienced and collaborated on this past year, while also considering where and how we want to move together into the future.
Where Are We Now, is an opportunity to check in, take stock and remain present amidst the complexities and challenges we all continue to face. To honor all of the students who have been making art in PCC classes this past year, our 3rd annual college-wide Art Student Exhibition invites us to consider where we are now and where we see ourselves going from here.
About the Guest Juror:
Yaelle S. Amir is a curator and educator based in Portland, OR. Her writing and curatorial projects focus primarily on artists whose practices supplement the initiatives of existing social movements—rendering themes within those struggles in ways that both interrogate and promote these issues to a wider audience. She has curated exhibitions at Artists Space (NY), CUE Art Foundation (NY), The Elizabeth Foundation for the Arts (NY), Franklin Street Works (CT), HOLDING Contemporary (OR), ISE Cultural Foundation (NY), Marginal Utility (PA), Melanie Flood Projects (OR), Oregon Contemporary (OR) among other institutions. She has held curatorial and research appointments at art institutions including the International Center of Photography (NY), the Museum of Modern Art (NY), Newspace Center for Photography, NYU's Institute of Fine Arts, and the University of Oregon's Center for Art Research. She presently teaches curatorial studies and professional practices at Lewis & Clark College.
About the PCC Art Galleries:
Portland Community College is home to four art galleries: the Helzer Gallery, the North View Gallery, the Paragon Arts Gallery, and the Southeast Gallery, each located on one of our four comprehensive campus locations in Portland, Oregon. The Art Galleries are dedicated to supporting education and community building through the arts. 
Funding for awards was generously provided by HARTS (The Humanities and Arts Initiative) along with the Art Student Supplies Fund through the I Heart Art project and the Associated Students of Portland Community College (ASPCC).