Instructor Payal Roy brings culture and unity to PCC community
Story by Misty Bouse. Photos by Alaina Buller.
Portland Community College first celebrated International Yoga Day in 2018, but a global pandemic halted the fun event as it was forced to go on hiatus in 2020, that is, until now.
International Yoga Day returns to the Rock Creek Campus from 8-9:30 a.m., Wednesday, June 21, in the Building 5 gymnasium. Join yoga instructors Carol Gonzalez and Lloyd Pauze who will be leading the free event to raise awareness of the many benefits of yoga.
The theme is "Yoga for Humanity." Beginners are welcome and a few mats are available. However, it is suggested to bring water, a towel and your own mat, according to event organizer Payal Roy. She is also giving away free T-shirts to the first 100 participants.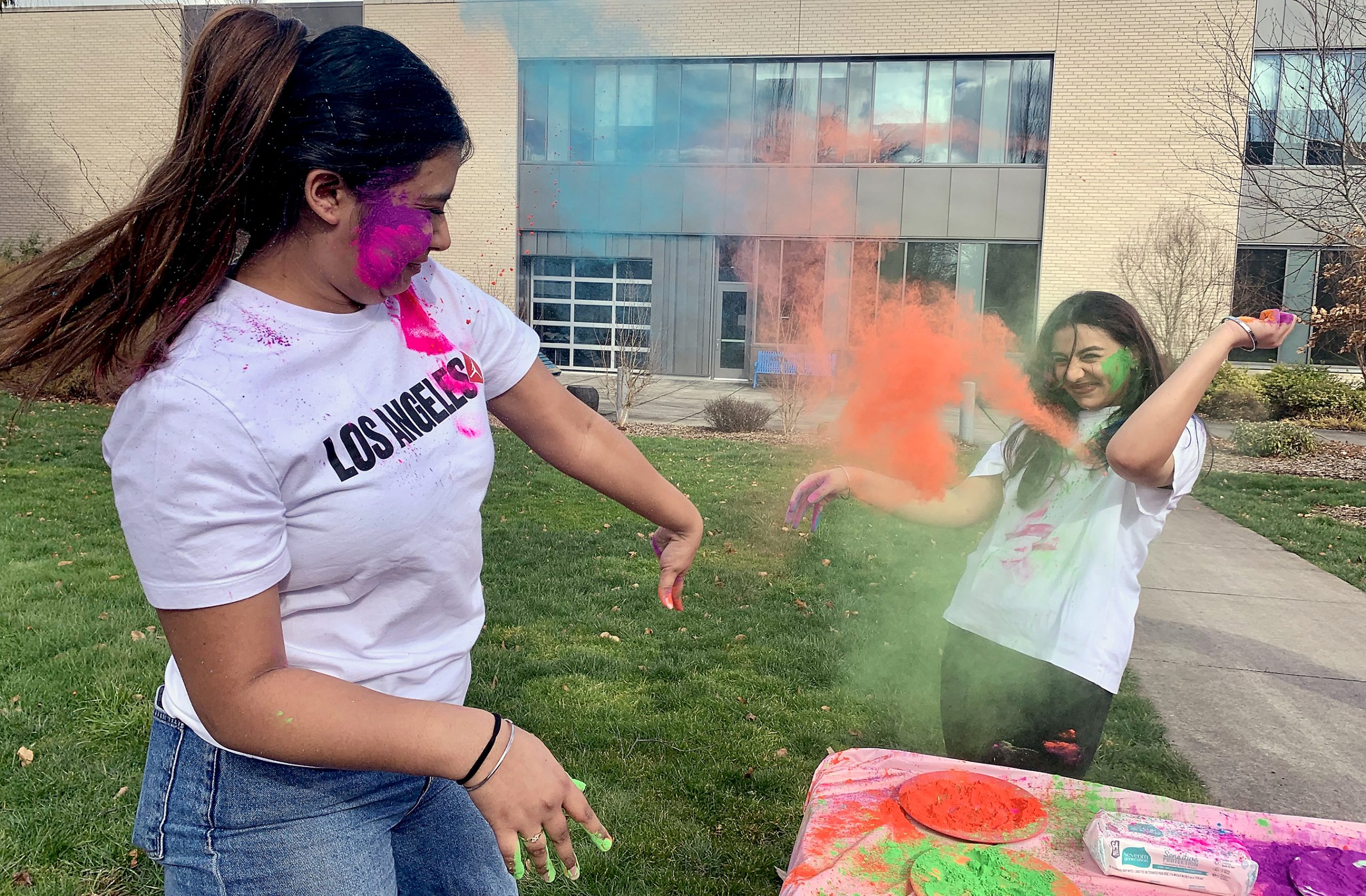 The Strategic Plan: Belonging
The 2020-2025 Strategic Plan prepares the college for the future of higher education. Part of the plan is creating a sense of belonging and well-being for every student and staff, ensuring access to key resources, develop intercultural competencies, and support a culture where everyone feel acknowledged, inspired and supported.
"Yoga is oneness, love of self. It fills the heart as you get a chance to go inside yourself. See the body as a temple and fight depression, too," said Payal, who was first introduced to yoga at PCC.
As the college emerges from the effects of the pandemic, some in PCC's community may feel less connected. Roy, a math instructor, is helping to rebuild the community through the planning of campus events to engage and rally the community. Her effort to organize yoga day is part of her engagement.
Longtime Teacher
This fall, Roy will celebrate 20 years of teaching at PCC. She said she is a creative person who wants to bring us together. This past March, Roy reminded the college of its oneness with an event dedicated to celebrating the Indian holiday Holi.
"Holi Festival of Colors brought us together, removed identities and labels," said Roy, who grew up in India as her grandparents had to flee ancestral Bangladesh. "We became like four-year-olds playing together. It was a big success: We expected about 100 people to show up but around 270 people came! People are hungry for such cultural experiences, especially this one, which has been carrying on for more than 7,000 years."
In India, Roy was awarded the President's Gold Medal during her undergraduate studies for all-around excellence. She earned her master's degree in mathematics while teaching. Then, in 2002, she married and moved to Oregon and joined PCC as a student taking computer classes. She then became a math tutor and teacher at PCC in 2004. 
"Payal is a dedicated educator and professional committed to cultivating a sense of belonging for her students through culturally responsive practices," said Jeremy Estrella, associate vice president of Academic & Career Pathways. "She hosts and facilitates college events and celebrations like Holi to help broaden this sense of belonging to the larger PCC community."
Making Her Career Work
Roy prioritized family and work-life balance by teaching at PCC in the evenings when her two sons were small. She also credits math department faculty Jon Wherry, and Diane Edwards (now retired) who valued and engaged her by sending her to conferences and workshops that were eye-opening. The development opportunities helped her become a full-time instructor.
Today, she believes her teaching style brings an emotional and cultural connection through stories so concepts stick better with students. And she's excited to once again lead International Yoga Day.
"I'm inviting our whole community to join in the Yoga Day celebration," she said. "Come relax and know your body better. At the end you will feel so much joy."