PCC's commencement returns to in-person format first time since 2019
Photos and Story by Misty Bouse
After four years of hiatus, Portland Community College's signature graduation ceremony returns to the Memorial Coliseum (300 N. Ramsay Way) with 5,000 family and friends expected to be in attendance.
PCC's 61st commencement ceremony is set for 7 p.m., Friday, June 16 and features President Dr. Adrien Bennings' first address to graduates. It will also be her first opportunity to confer diplomas and certificates upon the graduates walking across the stage. Bennings joined PCC in August of 2022.
The program includes Bennings' keynote address with Dr. Heather Lang (Interim Vice President of Student Affairs) and Dr. Katy Ho (Vice President of Academic Affairs) as co-masters of the ceremony. Suzan Nuri will serve as student speaker. In addition, the national anthem will be performed by student Ora Koeder, and Crystal Wilkinson, 2023 Carolyn Moore Writers Resident and Kentucky Poet Laureate, will recite her poetry.
On the day of commencement, parking will be free at PCC's Cascade Campus (705 N. Killingsworth St.), and free shuttles will run to the Memorial Coliseum. Shuttles will begin at 4 p.m. and will run approximately every 20 minutes. The shuttles will continue to operate for 45 minutes after the ceremony.
Face masks are not required while attending the commencement ceremony. For more details on commencement and to access a live stream of the ceremony, visit pcc.edu/commencement/
Dr. Adrien Bennings, Keynote Speaker
Bennings is the college's eighth president, making her PCC's first permanent, female leader in its history. She has been a driving force on crucial boards, councils and task forces since she arrived. As a member of the Portland Business Alliance board and Semiconductor Task Force as well as Chair of the Future Ready Oregon Healthcare Industry Consortia, she has helped shape the economics of the city, region and state.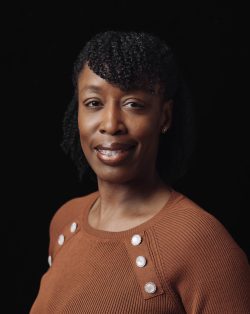 Chosen as one of the leaders within the 2022-23 class of the Aspen New Presidents Fellowship, Dr. Bennings is working to achieve higher and more equitable levels of student success. To further this work, she also serves on the boards of the Global Community College Network and Community College Baccalaureate Association. Additionally, she serves on the Oregon Presidents Council, Oregon Community College Association, and The Partnership Council made up of executive-level leadership from business and education for All Hands Raised, which transforms area children into educated, independent adults. 
Bennings' educational background includes a doctorate of philosophy in higher education administration from Texas Tech University; a master's of business administration with a human resources concentration from Wayland Baptist University; and a bachelor's in agricultural development from Texas A&M University.
Learn more about Bennings at pcc.edu/president/
Suzan Nuri, Student Speaker
Nuri is an Ethiopian immigrant from Saudi Arabia who made a life-affirming decision two years ago as she neared the end of her 10th grade year. This was being accepted into the Early College High School Program (ECHS), a partnership between the Beaverton School District and PCC. Nuri was able to blend high school and college in a personalized and rigorous education program. In the fall of 2021, the 16-year-old took her first step as a college student onto the Rock Creek Campus.
Nuri's reverence for knowledge started at a young age. She moved to the U.S. with her family when she was 4 years old, and they visited the library every Sunday. These library trips with her father, Semir, and two siblings taught her a respect for words and fed her insatiable curiosity. But it was growing up as an immigrant that led her to understand the importance of being informed and informing one's community. So, she participated in the Oregon High School Journalism Institute Program last summer to learn social media and reporting best practices.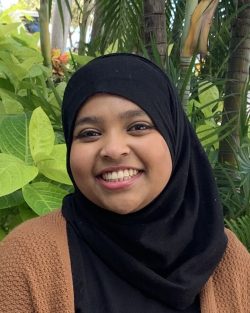 While attending ECHS, Nuri became a PCC legislative intern in Salem with State Rep. Nathan Sosa's office, which represents Hillsboro. As a result of this, she participated in political campaigns this election season and served as a student representative for early college on the Beaverton School District Superintendent's Student Advisory Council. Likewise, Nuri also served as president of the Associated Students of PCC, leading the team as they transitioned back from the pandemic and fortifying the department into a first-ever, district-wide senate. She was appointed as the student trustee to the PCC College Board this spring.
Nuri, who is a political science major, is graduating with an Associate of Arts Oregon Transfer (AAOT) degree. In her pursuit to understand the complex causes and outcomes of violence, she has attained the "Peace and Conflict Focus Award," while also earning the highest academic honors of the President's Honor Roll Certificate. This fall, she will be attending Willamette University with plans to be an immigration attorney. She has been awarded a Willamette Merit Scholarship and the Portland Links Scholarship for "accomplished, dedicated women."