Southeast Campus
2305 SE 82nd and Division, Portland, OR 97216 | 971-722-6111
campus map | map of accessible features

Campus administrators and student leaders serve food at a Welcome BBQ.

ASPCC hands out Welcome Back to School Kits, including school supplies and backpacks.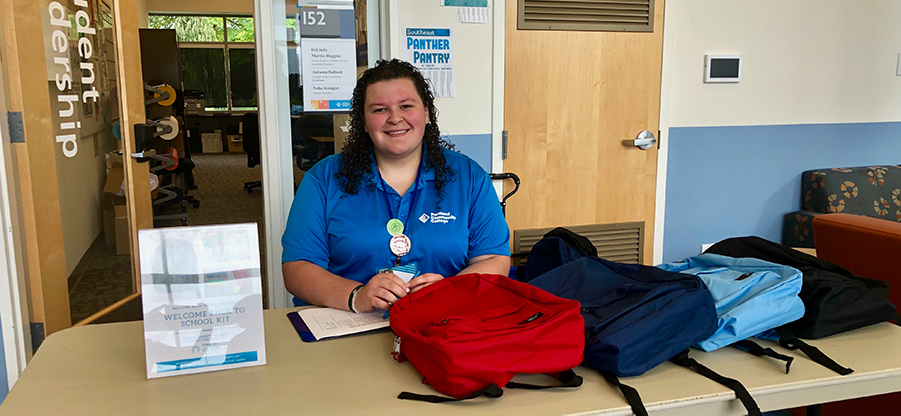 Southeast Campus Bike Coordinator Victor Velikoretskikh provides information about bicycle safety and resources available to students, staff, and faculty at the Southeast Cycle Center.

The Library is open seven days a week to PCC students and community members.

The Tutoring Center is on the first floor of the Library.

The YMCA Child Development Center, one of our child care options, is open and enrolling children.

To accommodate our growing number of students, the Student Computing Center in the Library has 60 computers and is open seven days a week.

Study spaces in the Student Commons take advantage of the natural daylight.

The Student Commons fronting SE 82nd Avenue has five state-of-the-art science lab classrooms for college courses in geology, physics, biology, chemistry, anatomy and physiology.

The STEM Center offers students a chance to explore science, technology, engineering and math in fun and interesting ways.

The Answer Center is where students can get all their questions related to enrollment, financial aid and their accounts answered in one place.

Students can stay on campus between classes — taking advantage of comfortable and quiet places to study, whether in private study rooms or in open group spaces.

As a neighborhood-based center, Southeast reflects the cultural diversity of the area and promotes a strong sense of community and community connections — bolstered by student leaders, PCC clubs, and PCC faculty and staff.

The campus quad is about 56,000 square feet, which is larger than Pioneer Courthouse Square in Downtown Portland.

Thanks to the bond measure passed by voters in 2008, the Southeast Campus has more than doubled its size from 94,000 to 200,000 square feet and expanded its class offerings, allowing students to complete an associate or transfer degree without traveling to another campus. A rich blend of culture is reflected in the community Southeast Campus serves, including a growing number of Vietnamese, Chinese, Korean, Latino, Russian and Ukrainian families. Despite the expansion, the center maintains a small campus feel with close connections to local neighborhoods and businesses.
Southeast by the numbers
48
Languages spoken on campus
11,614
Students enrolled annually at Southeast
1981
Southeast's opening date
News from Southeast
Thea Prieto is Guest Author at Readercon

June 21, 2023
PCC creative writing and composition instructor Thea Prieto's "From the Caves" is quickly gaining recognition and accolades

Back in Blue: Commencement Returns!

June 20, 2023
After four years of virtual or campus-only events, graduates once again donned the traditional navy blue gowns for the 2023 commencement
Campus map
Come visit PCC Southeast

Thinking of enrolling and want to see the campus? Schedule a visit!
Community members can learn about renting our facilities.
Southeast student resource centers
Unique programs at Southeast
PCC has more than 100 academic programs – see all programs
Things to do and see
At the Southeast Art Gallery:

Furin Project | Symposium May 5th 4-7pm

April 26, 2023
The Furin Project Symposium The Furin Project Symposium is the culmination of APANO Catalyst artist Midori Hirose's year-long community & […]