Rock Creek Helzer Gallery
Featured artist
Erinn Kathryn and Sara Osebold

June 8, 2023
OPENS presents: Erinn Kathryn, Sara Osebold What We Already Know Exhibition dates: May 30 – August 31, 2023 Gallery hours: […]
Hours and location
The Helzer Gallery is open Monday through Friday 9am to 4pm, Saturday 9:30am to 4:30pm. It is located in Building 3 at Rock Creek Campus. Visitors are asked to purchase a parking permit at the kiosk at the campus entrance on weekdays. Parking is free on Saturdays.
About the gallery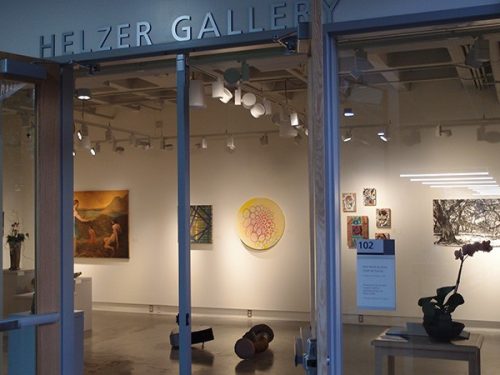 The Helzer Gallery is named for Richard (Dick) Helzer (1940-2006). Helzer spent 37 years at Portland Community College, first teaching ceramics at the Sylvania Campus, then starting the Art program at Rock Creek. At PCC, he taught sculpture and drawing, oversaw the art gallery and served as a mentor to young faculty and countless students. He was funny, wise and passionate about his work. His sculptures can be found on the Rock Creek Campus as well as in public and private collections across the Northwest and nationwide.
Helzer received his degree from Portland State University, where he studied with sculptor Frederick Littmann (1907-1979), learning from him a deep appreciation of such artists as Auguste Rodin, Aristide Maillol and Henry Moore. Helzer worked in stone, clay, wood and metals with equal fluency, but he was a carver at heart. His most ambitious sculptures start with elemental tools and materials.
Contact
For more information contact helzer@pcc.edu.