Cooperative Education partners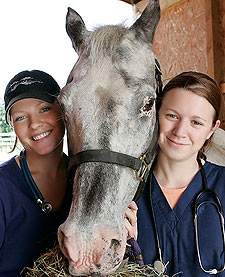 Portland Community College Cooperative Education Program matches Veterinary Technology students with veterinary clinics, hospitals, or other types of facilities such as research laboratories or shelters as sites for hands-on work experience. This experience is critical for developing future CVTs' confidence and competence in their technical skills.
Veterinary Technology students use Partner Profiles to help them select their Co-op Ed sites from many in the area. Selected sites must be willing to actively teach and mentor Veterinary Technology students. Staff members supervise the student, provide guidance and involvement in as many hands-on functions as possible. In addition, students learn a great deal by shadowing staff members on the site. The student's supervisor completes the student's performance evaluation at the end of their assignment, which helps determine the student's grade for that term's Cooperative Education experience.
Students do three Cooperative Education experiences during their two-year training program. Students have already had one year of classroom instruction and hands-on laboratory training when they start their first Cooperative Education experience, during Summer term. During this term, the students are on site for 32 hours/week for 5 weeks. During each of PCC's Winter and Spring Terms, students are assigned to a site for two full days a week for ten weeks. After Spring, their final term, students graduate the program and may become CVTs.
Become a partner
Do you represent a veterinary clinic, hospital, or another animal facility?
Your facility's participation in the PCC Veterinary Technology Cooperative Education program is critical to our students' success.
Please complete the partner application form, and be sure to carefully read the Guidelines Agreement. We will review your application and let you know if your facility has been approved.